-One-
That's why love is madness. It's too easy to lose your mind when you lose your heart.
-Two-
It's not how bad the problem is, but how badly it's hurting the person who has it.
-Three-
Love has nothing to do with what you are expecting to get, it's what you are expected to give — which is everything.
-Four-
Don't do anything half-ass. If you love someone, love them with all your heart. If you hate someone, hate them until it hurts.
-Five-
We have to be in control and love takes that away.
People like us, we can't tolerate vulnerability.
But despite our best efforts, sooner or later,
love seems to catch up w/ us & then we fall apart.
-Six-
And it was then that I realized that this was the last time we would see each other. It was the last time we'd get to hold hands, the last time I would get to tell you it will be alright. It was then I realized the meaning of perfect. It was a day like this, in a place right here, with our pinkies locked without a care in the world.
-Seven-
Sometimes in life, things get messed up. People over think, over analyze, and assume. It's human nature though. We aren't perfect and I'm learning that more and more each day. Everybody's beautiful, everybody's flawed, and everybody deserves second chances. I don't care what you did, how bad you did it or anything. Sometimes we just weren't ready to make it right the first time. We're only human, remember that.
-Eight-
Never be totally dependent on anyone because even your own shadow leaves you when you're in the darkness.
-Nine-
Sometimes you just have to finally admit that you don't deserve any of this, and leave. Even if it's going to be the hardest thing you ever do.
-Ten-
I guess you can say I'm complicated, but I'd rather be difficult than easy any day.
-Eleven-
To rise to the success above you, you have to get over yourself.
-Twelve-
But most importantly, it's about letting go. It's about taking everything you thought was true and throwing it out the window. It's about embracing life's unpredictability, letting go of boundaries, and starting over.
-Thirteen-
You know what hurts most? The seconds in the morning where you've just woken up, and for those mere precious seconds, you've forgotten the reasons you're unhappy; the reasons you're so broken. And then it hits you again, like a stab to the heart, and you remember all the reasons you didn't want to wake up. Yeah, that hurts.
-Fourteen-
Dear girls, if a guy pauses a video game just to text you back. Marry him.
-Fifteen-
Speak your mind. Don't let anyone censor you. You have to express yourself no matter what anyone else thinks about it.
(probably my favorite quote.)
-Sixteen-
There's a skinny girl inside of me trying to get out but I usually shut her up with cookies.
(nope i lied, this one is :) fuxk a skinny b!tch)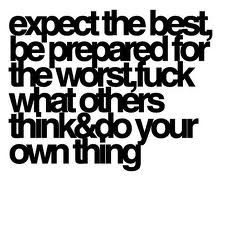 -Eighteen-
I didn't change, I grew up. You should try it sometime.
(too jerome, take this advice, please and thank you.)
-Nineteen-
I won't be your consolation prize. I love you, either your going to love me or get out of my life.
-Twenty-
Karma has more balls then me, and is by far a much bigger bitch than I could ever be. So I have no doubt in my mind, that you will get exactly what you deserve.
-Twenty-One-
"Fearless" is not the absence of fear. It's not being completely unafraid. To me, fearless is having fears. Fearless is having doubts. Lots of them. To me, fearless is living in spite of those things that scare you to death. Fearless is falling madly in love again, even though you've been hurt before. Fearless is walking into your freshman year of high school at fifteen. Fearless is getting back up and fighting for what you want over and over again… even though every time you've tried before, you've lost. It's fearless to have faith that someday, things will change. Fearless is having the courage to say goodbye to someone who only hurts you, even if you can't breathe without them. I think it's fearless to fall for your best friend, even though he's in love with someone else. And when someone apologizes to you enough times for things they'll never stop doing, I think it's fearless to stop believing them. It's fearless to say "you're NOT sorry", and walk away. I think loving someone despite what people think is fearless. I think allowing yourself to cry on the bathroom floor is fearless. Letting go is fearless. Then moving on and being alright… that's fearless too. But no matter what love throws at you, you have to believe in it. You have to believe in love stories and Prince Charming and happily ever after. That's why I write these songs. Because I think love is fearless. 
-Twenty-Two-
"Sometimes," said Pooh, "the smallest things take up the most room in our heart." 
-Twenty-Three-
I want to be alright without you. I want to smile, i want to laugh, i just
want to stop lying to myself. You've been putting me down for way
too long and i know now it's time to let you go. Its time i stop worrying
about you and your precious little life; it's time i think about myself
for a change. It's time i treat myself right, and leave behind those who
don't. It's time i dig myself out of this hole, and start all over again with
someone who just might be willing to give me the chance,
that you never did.
-Twenty-Four-
I'm not even upset, hurt, or angry anymore. I'm just tired. I'm tired of putting in
more effort than I receive. I'm tired of holding on for nothing. I'm tired of believing all your lies. I'm tired of proving me wrong every time. I'm tired of getting my hopes up and being disappointed again.
-Twenty-Five-
No matter what, once in your life, someone will hurt you. That someone will take all that you are, and rip it into pieces and they won't even watch where the pieces land. But through the breakdown, you'll learn something about yourself. You'll learn that you're strong. And no matter how hard they destroy you,that you can conquer anyone.
-Twenty-Six-
When you truly care for someone, you don't look for faults. You don't look for
answers. You don't look for mistakes. Instead, you fight the  mistakes.You accept
the faults and overlook the excuses. The measure of love is when you love
without measure. There are rare chances that you will meet the person you
love and who loves you in return. So once you have it, don't ever let go. That
chance might never come your way again.
-Twenty-Seven-
Learn to accept that you are not perfect, nobody is, the important thing is to be
aware of where your imperfections lie.
-Twenty-Eight-
She's the girl that has a few best friends and doesn't need anymore. The girl that
laughs the hardest at her own jokes. She's the girl that will hang up on you, but
then call you right back and say sorry. She's the girl who will never leave your side
when you need her. The girl who will go out of her way to cheer you up. She's the
girl who never sleeps without her teddy bear by her side. She's the girl who says
she isn't ticklish, but really is. She's the girl who will not give up on you if she really believes in you. She's the girl who believes in loving somebody forever.
-Twenty-Nine-
Everything in life is temporary. So if things are going good, enjoy it because it
won't last forever. And if things are going bad, don't worry. It can't last forever either.
-Thirty-
Stop talking about love. Every asshole in the world says he loves somebody.
It means nothing. What you feel only matters to you. Its what you do to  the
people you love, that's the only thing that matters. its the only thing that counts.